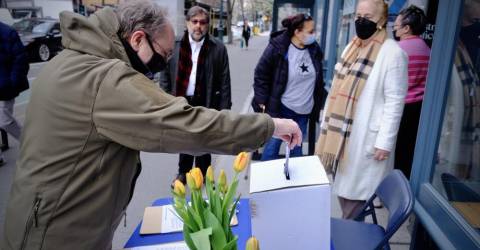 Upper West Siders — over 1,700 in City Council District 6, to be precise — placed their votes in recent weeks for community projects to receive funding. Now, the results are in.
Council Member Gale Brewer announced on Tuesday that a process known as participatory budgeting, which allows community members to decide how a portion of the city's capital funds is spent, had come to a close, with four projects making the final cut. Of the nine projects on the District 6 ballot, locals rallied behind a total of nearly $1 million to be put toward eight new security cameras; two school bathroom revamps; fresh greenery for the sidewalks of Broadway; and middle school classroom technology upgrades.
"Participatory budgeting is an exciting opportunity for residents to get even more involved with local government," Brewer said. "Upper West Siders are very civically engaged, and I am grateful for the support of volunteers who made this effort possible. I look forward to seeing these projects implemented and beautifying our streets and improving education and public safety."
Winning Projects:
Security Cameras at Broadway, Amsterdam Avenue, Columbus Avenue and Riverside Drive
672 votes, $320,000
In collaboration with the NYPD, eight security cameras will be placed at locations along Broadway, Amsterdam Avenue, Columbus Avenue and Riverside Drive to "deter crime and ensure public safety," according to Brewer's office.
Bathroom Renovations at P.S. 199
617 votes, $300,000
At the Jessie Isadore Straus School, two student bathrooms will receive complete revamps, including a focus on ADA accessibility.
New Trees and Tree Guards on Broadway
592 votes, $250,000
A total of approximately 35 new trees and tree guards will soon grace the sidewalks of Broadway north of West 72nd Street. They'll "make the avenue a more attractive destination," according to Brewer's announcement, in addition to benefiting the environment and providing shade.
Technology Upgrades at M.S. 243
578 votes, $117,000
The Center School will be the recipient of 30 laptops, a laptop cart and 12 Promethean Boards to foster an "interactive learning experience," according to Brewer's office.